emily has had the last three weeks off of school! i decided to take a long break from blogging so i could suck up her lovins! tomorrow she is on her way back, and i think she is ready! she has been so grouchy since yesterday! she likes her morning routine, she's just like her mommy!! i've been all out-of-whack for three weeks too!! i'll be happy when things return to normal!
i was super happy when hubs told me he was taking the last week of emily's vacation off of work! after the end of the second week, i was downright exhausted! when emily is @ school, i typically get about 30 minutes to sit on the couch and relax...well, not while emily is on vacation! its a constant merry go round of activity...or in emily's case, she basically just likes to wander around the house!! and for me, that means alot of walking, crawling, kneeling, and chasing!! can i just tell you, my husband has been absolutely
amazing
! i actually feel like i got the take a break! ok, so i didn't get a "vacation" per say, but so much was lifted off of my shoulders that i actually feel relaxed! not to mention, we were able to get some stuff done around here!!
now i am sad that he and emily will be leaving david and i tomorrow. i'll probably be a grump...i'm going to try to stay positive though. i'm signing david up for a "gyminee crickets" class. it gymnastics type stuff where he can blow off some energy and meet kids his own age. david still is not talking, and i fear it is because he doesn't see emily talking. i'm hoping the interaction with kids his age will spark something. i am also calling early intervention to get him evaluated--just to be on the safe side. i mean, this kid has excelled at everything except talking. i hope its nothing.
without further ado, here are some pics from the last three weeks!!
we visited the crayola factory:
we also went to the turtle back zoo:
my favorite part of the whole summer?? emily got her very first haircut, EVER! my sweet girl looks so grown up now!! she donated 8 inches to pantene beautiful lengths!!
i hope you all enjoyed your summer!
ooh, ooh, now that i'm back...i've been wanting to participate in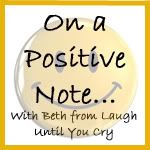 so, on a positive note...all last week was positive!! haha no really, it was! loved having emily home, loved having the hubs home, loved being productive with minimal interruptions, and i
love
my current state of mind! i'm really going to try hard to carry on with the positivity throughout the week when emily and hubs get back to the grind. i will miss them terribly, but we'll do it again soon!