i'm feeling good about this week. after gaining about 10 lbs, i'm officially back on the wagon! although, i'm not really feeling that well, but i am still hoping to get in a workout at some point today...we'll see how i feel in a bit.
we had a nice weekend. didn't really do anything special...it was just, nice. minor annoyances from my husband aside, i love those kinds of weekends. nothing to do, but still getting stuff done...and the kids are good!! mom came over for a bit on saturday while dad was fishing. after the kids went to bed that night we rented the new indiana jones...well, not that new now, but we don't rent movies much anymore since they closed our local blockbuster...still looking into netflix, but its an extra expense we really don't need right now. hubby finally got to cut the grass yesterday! the yard looks so much better! we have a ton of stuff to do out there, but we have to find the time to get out there...which is hard to come by these days! david helped hubby wash the tractor...too cute!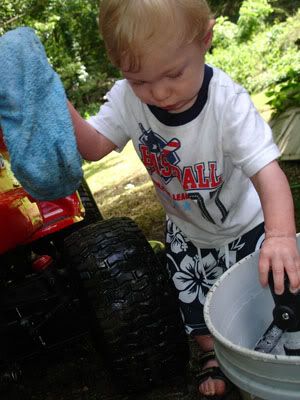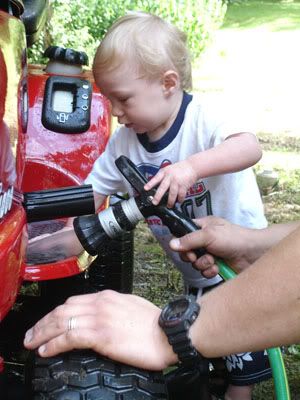 we had a proud parent moment...both kids are self feeding!! we're still in the messy phase, but its so great!! of course, this is HUGE for emily!! she's really gaining that independence that she craves, its beautiful to see! david is just moving at his usual speedy pace! i never thought i'd be "proud" when they were this young, but wow, what a feeling! i can only imagine how it will feel when they're older--you know, when emily becomes president, and david cures cancer!! i'll be bursting at the seems!!!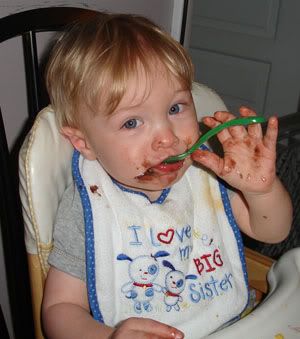 and just to give emily a little more face time, here she is all ready for a new week of school this morning...



i am starting the countdown for this friday. david is sleeping over aunt cindy's house, and emily will be @ grandma and grandpa's. hubby and i will be cleaning the garage all day on saturday! i really am looking forward to it!! then i'll have room for some craft space that i've been desperately wanting!! we'll also be having a garage sale at some point in the near future as well...never had one before, should be interesting!!