i hate feeling trapped in the house! off to mom and dad's today. the little man is still sleeping. he was up and down last night. at one point he was screaming at the cat! so i wasn't surprised when i was up before him!! aaah, i little quiet time before the hurricane hits! ooh, i forgot to check our lottery ticket. i'm sure we're big losers as usual. we're never even close!!
last night i baked, what i'm calling, triple dipped chocolate zucchini cupcakes...i will now share.............
Triple Dipped Chocolate Zucchini Cupcakes
2 cups all-purpose flour
2 cups white sugar
3/4 cup unsweetened cocoa powder
2 teaspoons baking soda
1 teaspoon baking powder
1/2 teaspoon salt
1 teaspoon ground cinnamon
4 eggs
1 1/2 cups vegetable oil
3 cups grated zucchini
3/4 cup chopped walnuts(i left them out this time--didn't have them and i was too cheap to buy some!!)
Preheat oven to 350 degrees F (175 degrees C). Grease and flour a 9x13 inch baking pan.
In a medium bowl, stir together the flour, sugar, cocoa, baking soda, baking powder, salt and cinnamon. Add the eggs and oil, mix well. Fold in the nuts and zucchini until they are evenly distributed. Pour into the prepared pan.
Bake for 50 to 60 minutes in the preheated oven, until a knife inserted into the center comes out clean. Cool cake completely before frosting with your favorite frosting. *i did cupcakes, it made about 24...bake for 20 mins.*

(next time i make these, i may cut out a 1/2c of the oil--maybe replace with some apple sauce--my papers were a tad oily when they were done)

Chocolate Ganache
16 oz Milk chocolate chips
2/3 c plus 3 tbs heavy cream

pour chips into bowl. heat heavy cream in a sauce pan over med heat, until small bubbles just start to form...watch it closely--it will get away from you if you're not paying attention...trust me! pour cream over chips and let stand for 2-3 mins. start mixing with a whisk until there are no traces of cream and the chocolate is shiny. let sit for about 10 minutes. dip cupcakes. wait 10-15 minutes between each dip.(i took a shower, looked at some old pics with hubby).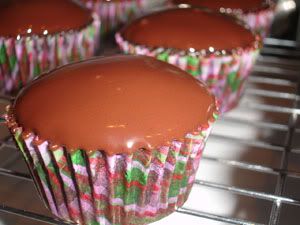 i was only going to double dip these, but i couldn't let all of that ganache go to waste ;o). although, it is quite yummy reheated and poured over some ice cream!!
ugh, maybe one day i'll lose these last 20 lbs!! lol hope you enjoy!