its been a little bit since i posted on here. sometimes life just gets in the way, ya know? so while the little man is eating his breakfast, i thought i'd recap the weekend!
friday was emily's pinewood derby. i have to be honest, i really wasn't sure how this was going to happen. i mean, pinewood derby, home made cars, big hills in the middle of the road...we're talking special needs kids here, how the heck are they going to do this? we wondered all week...heaven forbid, we should just ask her teacher! haha so we get there, hubby, david, mom and dad, aunt cindy, and me. they had it set up in their all purpose room with a big wooden track in the middle of the room. "ah ha", i thought! they had made small wooden cars--mystery solved! it was great to see emily @ school. she's so happy there. everyone loves her--after all, she is the baby of the school...and who couldn't resist that face?! in the end, she did lose--the wheels on her car didn't even turn! haha it was a great time though...and NASCAR had sent a ton of stuff for the kids to take home...and an entire table full of signed memorabilia from drivers and their teams for the school to display...how cool is that? i'm not a NASCAR fan-at all-but i thought it was a wonderful gesture! she was just so happy to see her grandma and grandpa! she almost couldn't believe they were there!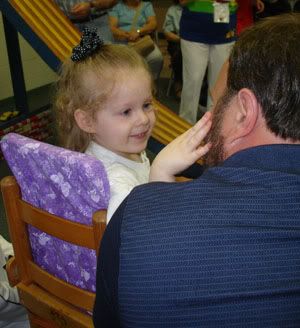 on saturday i was determined to NOT sit home all day and listen to the kids torment each other. after THREE hours of back and forth, we decided to go to the botanical gardens in ringwood to have a walk. emily was hysterical the WHOLE way there--until i crawled in the back seat between the two of them. ugh, its so frustrating! and its even worse when no one understands, i swear they think i'm making it all up! so we finally got there after what seemed like the longest drive EVER!! had a nice walk around for about an hour and a half. let the kids get out of their strollers to stretch their legs in the gardens...so pretty--although, i did think it was going to be alot bigger. by the time we even got out of the parking lot, the kids were passed out...i love that--silence! we made the mistake of taking the long way home so they could sleep...30 minutes into the drive they were both awake and screaming again! there went dinner @ the chatterbox! we found the quickest route home and made a pot of mac n cheese!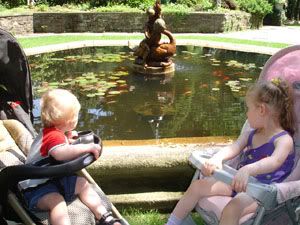 they liked the fish in the fountain!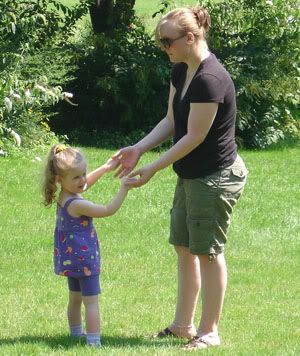 on sunday we just hung around the house. it wasn't a completely terrible day...the weather sucked though, so we couldn't even take the kids outside. then it was back to the grind on monday. emily has had three miserable mornings in a row...i don't know what it is about david that sets her off. i think he's just so unpredictable, maybe she's jealous...i just don't know how to get her passed this...ugh...trying to keep it together!!