i've had the worst "mommy brain" recently. i mix up my sentences, lose my train of thought-frequently, and forget what i did yesterday! i was never like this! so the kids had their sleepovers on friday(well, emily's started on thursday for reasons explained in one of my last posts--see, i don't even remember when i wrote that one!)
hubby and i went to chilis--oddly enough, we'd never been there before. it was so yummy! i'm not really about the spicy stuff, but everything i had was pretty mild. i'd definitely go back!! mm, my mouth is still watering when i think about those little sliders! then we went bowling!! holy cow, we haven't done that in soo long!! a good 8 or 9 years! it was so much fun. too bad the chilis kicked into high gear on poor hubby about 1/4 way into the second game!! he was sweating like a you-know-what in you-know-where!! he managed to squirm his way through one more game. i felt so bad for him!! i think he would have left after the second game, but we paid for three, and he knew i was having a good time...what a guy! suffering through stomach pyrotechnics so i could spend a little more time out of the house!! we actually ended up speeding to my parents' house--it was way closer than our house!! emily was already in bed, so i hung out with my mom for a few minutes. it looked like emily had taken her around the block a few times...she's the best grandma! so after hubby's 2 trips to the bathroom, we finally went home; where chilis continued to make us both suffer(i only had a stomach ache, lets get that clear!!) it was sitting so heavy in my belly! so we went to bed romance-less on date night--if ya catch my drift--and i think ya do!! ;o) --i'd still go back, but i think we'll both be a little more prepared for it!! lol i made him go grocery shopping with me on saturday morning. i like taking him, he talks me out of the crap we don't need!! i'm usually pretty good...i stick to the budget!! before we knew it the kids were home...and ready for naps!! david is soo cranky when he comes home! its a small price to pay for a little sanity though!
that night we made some strawberry smoothies. i found this packet of stuff in the produce section--that hubby couldn't talk me out of! so we played monopoly(disney version) and had our smoothies!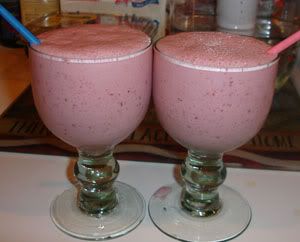 sunday was a blur, and here we are at monday! its emily's last full week of vacation. hopefully she's better this week--and hopefully i'm a little better equipped to deal with it if she's not!! hubby is taking a few days off at the end of the week to help my dad repair their porch. next monday we'll try to take them to the zoo or something. so at least emily can "say" she did something fun on her vacation!!