i have succeeded in making and canning apple butter! i would now like to share that with you on this fine autumn morning.
Apple Butter
5 1/2 pounds apples - peeled, cored and finely chopped
4 cups sugar
2 teaspoons ground cinnamon
1/4 teaspoon ground cloves
1/4 teaspoon salt
*i cut the above recipe in half because i only had about 3 lbs of apples

Place apples in a slow cooker. Combine sugar, cinnamon, cloves and salt; pour over apples and mix well.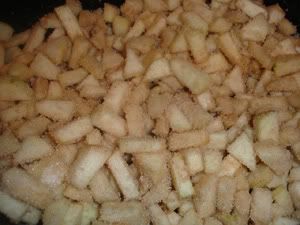 Cover and cook on high for 1 hour. Reduce heat to low; cover and cook for 9-11 hours or until thickened and dark brown, stirring occasionally (stir more frequently as it thickens to prevent sticking).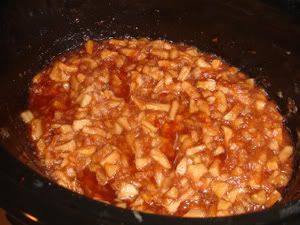 Uncover and cook on low 1 hour longer. Stir with a wire whisk until smooth(or if you're afraid of a little elbow grease, by all means, use a hand mixer). Spoon into freezer containers, leaving 1/2-in. head space. Cover and refrigerate or freeze.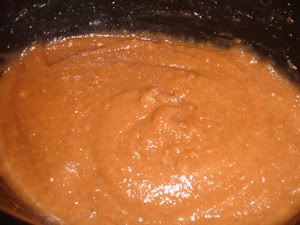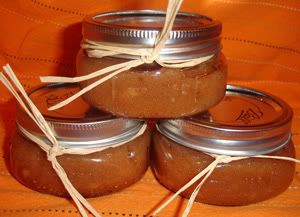 (only three are pictured because i was already eating out of the fourth ;op)

this recipe calls for refrigerating or freezing your apple butter, but i was really wanting to try canning. there are some great web sites around that explain how to can...and you do not need the fancy canning pots if you don't have them. i used a big spaghetti pot for 4 8oz jars.(one was slightly tilted, but it still got a seal) can you say, "hello christmas gifts!"

i hope you'll give this a try. it was super easy(even easier if you decide not to can), and the house smelled awesome!! its the little things :o)