i'm so glad that its friday! i'm not usually into the tgif thing, because for us, its emily's crankiest day--so i dread it! but after this week, i welcome friday with open arms!!
blood work, crafting, laundry, field trip, appointment with a lawyer(long story, maybe some day i'll get to tell it! lol) it just seems like every day has had something going on. every day, except today, that is! tonight, after the kids go to bed, i'll be curling up on the couch, and watching ghost whisperer--love that show! ok, so maybe i'll have some crocheting in my hands too, but christmas is fast approaching, and i have stuff to get done!! did NOT feel like working out today. after all the walking/chasing i did yesterday, i think i'm good till monday! lol so my numbers may not be that good one the scale, but i'm not going to feel guilty over it. its just been a non stop week of go go go, so i refuse to cry over a few lost workouts! i have been eating well, so there!
yesterday we went to camp winnebago with emily's school. emily's bus couldn't do the run, so david and i got to go and par take in "nature day". the only suck-y part, aside from being
exhausted
, whas that it was pretty chilly all day. we had fun anyway! emily did tons of walking, david was playing in dirt, and rocks, oh, and there was that unfortunate incident with the worm(R.I.P. little worm)
here are a few pics from yesterday.
yes, emily was mere inches from david--and had a smile! i had to document it!


doing what boys do best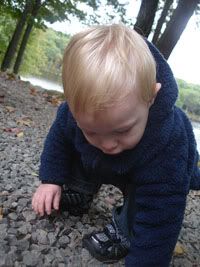 just a reminder, check out vicki's tricks and treats for our little sweets


find out how to win your little punkin, made by yours truly! thank you vicki for helping me spread the word about tina's place!

and lastly, my little blog was featured on tip junkie this week, as well as sisters stuff today!
http://sistersstuff.blogspot.com/2009/10/your-halloween-ideas.html

back in june, i never thought anyone would even read this blog. i'm so happy to actually have followers-that aren't family members, and that i've been featured!! i also found out that i will be selling my first baked good(dutch apple pie)! who knows, i may see a business in my future!! thank you for reading!!