we're heading over to my sissy's house today for some trick-or-treating and face stuffing! here's what i'm bringing...
Ghost Food
(this can be made for any occasion using the appropriate m&m's ie: reindeer food, easter bunny food, etc...)

5 c corn chex
1 stick of butter
1/2 c peanut butter
1 pkg milk choc chips
1 c powdered sugar
1 pkg peanut m&m's

cover 2 cookie sheets with wax paper.
microwave butter, choc chips, and peanut butter in 30 second intervals until melted.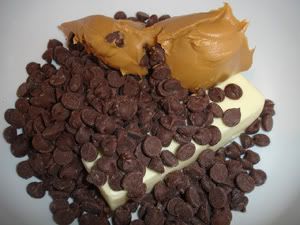 stir until smooth.

add in your cereal and stir until coated well.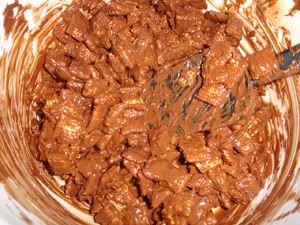 spread out onto cookie sheets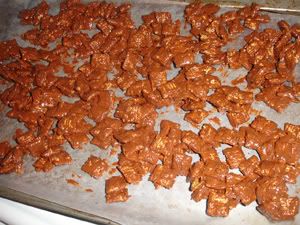 refrigerate until set

remove from frige and break apart into smaller pieces. place 1/2 of the pieces in a zippie bag. add 1/2 of the powdered sugar and 1/2 of the m&m's. shake well.



repeat with remaining ingredients.
serve.



this is a great one for the kids to help with! also, in the past i've added cashew nuts and or pretzels with great results!


i'm also bringing along some caramel apples


i just followed the recipe on the back of the kraft caramels bag! easy peasy!

and finally, the mummy cake...


he's not as "polished" as i would like, but it was my first time with fondant! lol

i hope you all have a fabulous halloween!