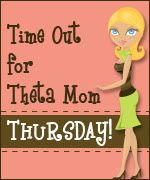 ok, so i have to catch up from last week! i had emily's field trip and wasn't able to post. so...

i went out...again! what? two weeks in a row...its true :o) my sissy, our mutual girlfriend and i went to the craft store...aah, the perfect night out!! tee hee. i spent too much, as usual...but loved seeing my girlies! we hopped from ac moore over to michaels...looove that they're so close together :oD then we just BSd in the parking lot for about 30 minutes catching up on all of the gossip. we went to high school together, so every time we get together one of us has dirt on somebody! lol it was awesome. we definitely don't do it enough, but sometimes things get in the way. i'm sure you've all been there.

this weeks time out was not as long or as fun...but it was long enough for me to paint my nails and shave my legs ;o) i caught up on a little tv after the kids were in bed, and the hubby was at the firehouse. i started crocheting a blanket for david(xmas gift)...but that seemed like work to me...so it doesn't count for my timeout!

what did you do for yourself this week??