so i finally finished my ornaments! i grabbed a branch from outside, and spray painted it black. then i basically crammed it in the skeleton head that i already had.(put some styrofoam in there to pack around the branch too)
just a refresher on the cinnamon apple ornaments:
1C cinnamon
1Tbs ground cloves
1Tbs nutmeg
3/4C applesauce
2Tbs craft glue
combine cinnamon, cloves, and nutmeg;mix in applesauce and glue. knead mixture for 2-3 minutes to form a ball. roll dough to 1/4 inch thickness;cut with cookie cutters. use a toothpick to make a hole for hanging. let air dry for 4-5 days, turning occasionally. makes 4-5 dozen. decorate with glitter, paint, or whatever your little heart desires!
and ta daaa....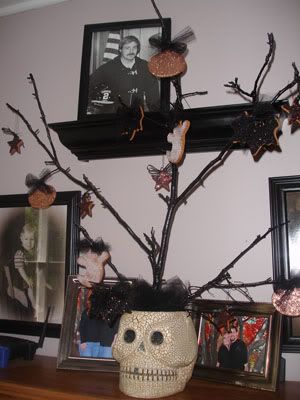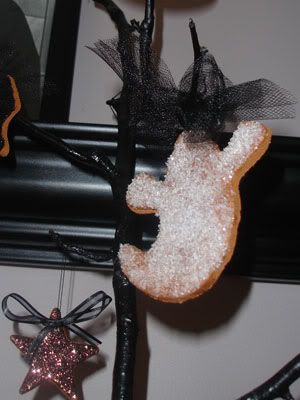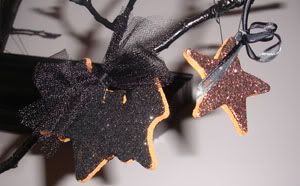 the only thing i paid for was the tulle and ribbon...got both on sale for about $4 total(and i have tons of tulle left over--watch out!)! i may re arrange a couple of the ornaments, and i just have to add some decorations to the hutch its sitting on...hooray for halloween decorating! :o)