this has got to be my favorite season! the crisp air, the smell of cinnamon and apples, pumpkins, and decorating for halloween! halloween and christmas...the best holidays for fun stuff around the house!! i wanted to share a one of my favorite projects that i've done.
For the wreath: i found a Styrofoam ring @ michaels-whip out your 40% off coupon! those things are hardly ever on sale, and can be a little pricey. you'll also need coordinating ribbon. watch for that to go on sale too, or get it on clearance at the end of the season. depending on the size ring you purchased(or maybe have on hand already!) cut the ribbon into 6ish inch lengths--and just start tying--alternating the patterns you picked out. i accented the wreath with halloween ornaments-also michaels, and cinnamon apple cut out ornaments(recipe to follow). also you can hot glue another ribbon with a loop to hang it from. For the garland: same concept, except that i used a long piece of twine (with loops tied at the ends for hanging)and tied the ribbon onto that-you can cut the ribbon a tad shorter(sorry, i hate to measure!!lol) decorate to match the wreath. (i attatched the ornaments with metal xmas ornament hooks.)
Cinnamon Apple Ornaments

1C cinnamon
1Tbs ground cloves
1Tbs nutmeg
3/4C applesauce
2Tbs craft glue

combine cinnamon, cloves, and nutmeg;mix in applesauce and glue. knead mixture for 2-3 minutes to form a ball. roll dough to 1/4 inch thickness;cut with cookie cutters. use a toothpick to make a hole for hanging. let air dry for 4-5 days, turning occasionally. makes 4-5 dozen. decorate with glitter, paint, or whatever your little heart desires! i've also done these as xmas gifts too!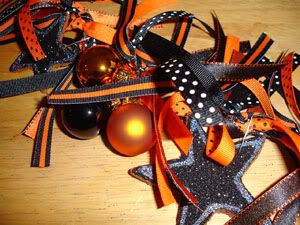 here is a garland that i did for xmas-