it sucked sleeping alone last night. hubby won't be back until sunday morning from the convention, so i'll have the bed all to myself for two more nights. i love being able to sprawl out all over the place, but i really do miss him sharing it with me. he can be an annoying blanket hog and he snores sometimes, but those are the things that i've grown accustomed to over the last 12 years.
my parents were here for dinner last night. i made bruschetta, deep dish chicago style pizza, and a regular pizza. i was not that happy with the deep dish recipe, so i will not be sharing that one! lol for dessert i made sopapilla cheesecake pie. i made some butter pecan rounds for my dad--he hates anything cheesecake related!
Easy Bruschetta
(my family looooves this, we make it for every occasion!!!)
one loaf of french bread cut into discs
4 tomatoes chopped(small dice)
one small onion, finely chopped
small bunch of fresh basil-if you have it
1 tbs minced garlic(i use pre minced, but you could use a fresh clove or two if you have it)
one packet of good seasons italian dressing mix, prepare as directed

toast the bread discs in 350 oven until lightly golden brown(i've never really timed it, but approx 5ish minutes!). combine tomatoes, onion, basil, garlic and prepared dressing. add salt and pepper if desired. *i like to make this the morning that i use it so the flavors can mix.(or even the night before!)
top bread with tomato mixture, and enjoy!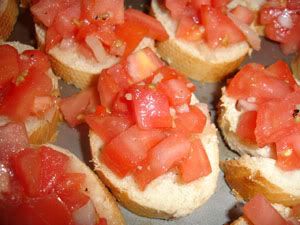 the pizza is super easy. just use store bought dough(take it out a couple of hours before you want to use it. it makes it easier to stretch out.) use you favorite tomato sauce, and toppings...presto...quick and easy dinner!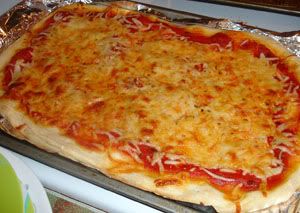 the recipe for the sopapilla cheesecake pie can be found here @, where else...allrecipes! http://allrecipes.com/Recipe/Sopapilla-Cheesecake-Pie/Detail.aspx?prop31=1
i cut the recipe in half, since it would only be my mom and i eating it.




Butter Pecan Rounds
2 tablespoons butter
1 1/2 cups chopped pecans
1 1/2 tablespoons white sugar
1/2 cup unsalted butter
1/2 cup white sugar
1/2 cup packed light brown sugar
1 egg
1 teaspoon vanilla extract
1 2/3 cups all-purpose flour
1/2 teaspoon baking soda
1/2 teaspoon salt

Preheat oven to 375 degrees F (190 degrees C). Line baking sheets with parchment paper.
In a skillet over medium heat toast the pecans with 2 tablespoons of the butter, cooking for about 5 minutes. Sprinkle 1 1/2 tablespoons of the white sugar over the top.
Cream 1/2 cup of the butter with the white and brown sugar. Beat in the egg and vanilla. Mix in the flour, baking soda and salt. Stir in the pecan mixture.
Drop tablespoonfuls of dough onto the prepared baking sheets. Bake at 375 degrees F (190 degrees C) for 10 to 12 minutes until golden brown. Let cool and devour.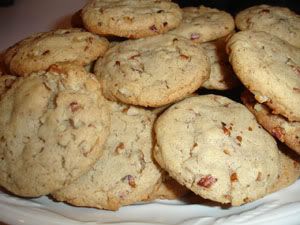 we had so much fun. i love when my parents come up and hang. tonight emily is going over to their house for a sleepover. so david and i will be on our own. i'm trying to come up with a project that we could do. oh well, there is laundry to be done!