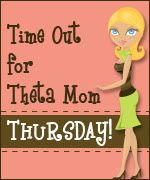 for my theta mom thursday...ready for it...i actually went OUT of my home...at night...with a friend!! it was amaaazing! ok, so it was only a trip to walmart, and i was buying diapers...but i.didn't.caaare!! :o)

i met kelly through emily actually! she was one of emily's early intervention therapists. we hit it off right away. we are the same age, similar backgrounds...tons in common. since emily aged out of EI, kelly and i have stayed in touch. its been wonderful to have a "girlfriend" again. she's leaving for vacation tomorrow, and when she gets back she's coming over for a day of crafting--and to hang with emily for a bit...but crafting will be involved!! :oD when i came home from our "walmart date", i felt so refreshed...spent more $$ than i wanted too...but i still felt refreshed!

how did you spend your time out?!