i just wanted to post a few things that i did over the last week or so.
first up...fry bread tacos...freakin' yum!! enjoyed these for dinner AND dessert by shaking the bread in a little cinnamon and sugar.

recipe here:http://allrecipes.com/Recipe/Fry-Bread-Tacos-II/Detail.aspx?prop31=4

next i was in need of something sweet-desperately. so i made some peanut butter dreams--no bake, even better!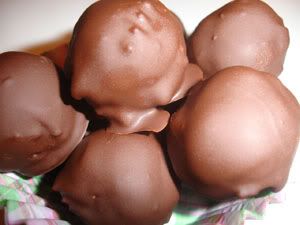 recipe here:http://allrecipes.com/Recipe/Peanut-Butter-Dreams/Detail.aspx?prop31=6

my bro's bday was on friday, and he looves these magic bars...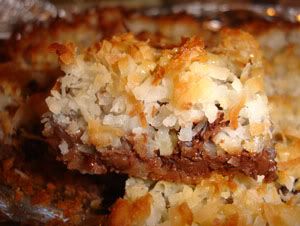 recipe:
1/2 c butter
1 1/2 c graham cracker crumbs
1 can sweetened condensed milk
1 bag choc chips
1 c chopped walnuts(optional)
1 1/2 c coconut

melt butter and combine with graham cracker crumbs-press into 9x13 pan. bake @ 350 for 5 mins. spread chips walnuts and 1 c of coconut over the crust. pour condensed milk over top. sprinkle with remaining coconut. bake approx 20 mins or until coconut is golden brown.


last but not least...i spruced up a few binders for my cousin...